Original Art / Artists Calendar
for 2015
"12 months – 12 originals"
now available at:
Eberhard Hartwig, printmaking studio Druckgraphik-Atelier, Dietrich-Bonhoeffer-Str. 3, 10407 Berlin-Prenzlauer Berg (directions see Contact) Arrange by phone +49 (030) 44 04 34 21 or make an appointment by e-mail druckgraphik-atelier@gmx.de  
Fig .: sales advertising sign "12 months", 27/08/2014,
Lead-hand set with 120 p Woods Poster font, 48 p Super fat
and 20 p Super skinny on 48 cic Measuring,
5 prints to 80 g / m2 xerox white 21 x 29.7 cm,
hand dyed and hand-printed
My contribution, calendar sheet in July 2015: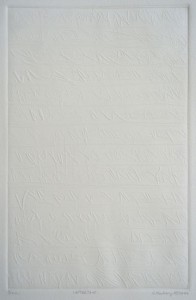 LETTERTO15, 05-2014, Etching-Blind relief printing, 29,5 x 19,5 cm on 39,5 x 27 cm Hahnemühle-Handmade Paper
Calendar for 2015 "12 months – 12 originals", the collection of multiple art 2015
If you every month want to be surprised by an ambitious original, looking for an exclusive gift, collect multiple art or a custom, yet affordable for equipping their premises search alternative to posters in not a limited edition, you will find it … also, with the 26th edition has managed 13 Berlin-based artist / inside to print an exclusive art calendar with high quality originals for you. The artists are: Christoph Damm, David Amaechi Dibiah, Helmut Gutbrod, Claudia Hartwig, Hartwig Eberhard, Philipp Hennevogl, huber & christians, Helga Ntephe, Niels discomfort, Peter L. Schedler, Petra Seebauer and Patrick Kaufmann. The concept – mixing traditional artistic printing techniques with the diverse possibilities of digital art and photography – is proven and makes the special charm of this art collection in calendar format. The work was printed by the artists in the hand printing process itself (soon to be set here).
12 months – 12 originals collection for multiple art 2015
Edition: 130 limited edition calendar with 12 original prints,
every single page is hand-signed and numbered.
Special Edition: limited edition of 12 calendars, each with 12 original prints, hand-colored part. Each blade is hand-signed and numbered in Roman numerals.
Calendar Format: 70 x 50 cm in vertical format.
The originals are mounted on the 12 calendar sheets with pH-neutral adhesive tape, so that they can be used as a background for many years, later framing.
Price the calendar for 2015: 350,00 € including VAT, plus about € 15.00 for postage and handling within Germany.
In Berlin, the calendar can be delivered personally by the artist.
First presentation of the calendar – "12 months – 12 originals, the collection of multiple art 2015 and more …"
in the Chamber Music Hall Friedenau, Isoldestr. 9, 12159 Berlin, opening on 17.09.2014, 19.00 clock. Exhibition dates: 09/18/2014 to 11/02/2015, opening times during the chamber concerts and by appointment: 030-61 62 75 34 or 01 93 0177-681
Residual copies of original prints-etchings calendar Radierungen for the years 1996 and 1999 to 2002 (see Edition keller-druck or under books) are still available in the printmaking studio Druckgraphik-Atelier.
---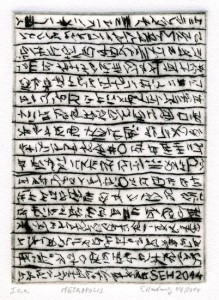 Skript METROPOLIS, 04/2014, Dry point, 14,2 x 10 cm
as a contribution to the international book project "Metropolis", which will be presented in autumn 2014 in Venice and Berlin.
---
---